Defeet Slipstream Overshoes
The Slipstream shoe cover was developed for two purposes: to shield your feet from chilling cold and to create an aerodynamic advantage. Wear Slipstream™ shoe cover directly over your cycling shoes to feel greater comfort on cool days and to slice through the wind.
Road Cycling UK - "An effective and Hi-Viz solution to the cold"
Road.CC - "Tough oversocks with plenty of insulation"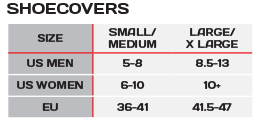 If you have any questions about the Defeet Slipstream Overshoes. Give us a call on +44 (0)116 318 3511 or email info@saltdogcycling.com