Lake CX402 Road Cycling Shoes
The Lake CX402's are the pinnacle for cycling shoes.
The Thermaform rear 1/4 alters the dynamics of pedalling creating one of the most stable platforms for high output cycling while also maintaining superior comfort. Lake's Custom Fit Carbon platform provides heel lock and total foot stability like nothing else. Supple and form fitting Kangaroo leather is naturally lightweight and breathable. This creates an upper that forms to your foot naturally, which in turn allows your foot to maintain comfort throughout the ride.
Unique to Lake is their patent double sole system. The inner sole is a semi-flexible carbon fibre platform that allows the foot to have some flexibility at the ball of the foot where the foot tends to swell and hot spots would occur. The inner sole is suspended over the outer rigid carbon sole.
Stiff carbon outsole without sacrificing riding comfort.
Upper: Klite Kangaroo leather and mesh upper with Perforated Kangaroo leather lining
Outsole: Custom Fit Carbon Fiber sole. Men's regular width in a 3-hole cleat pattern. Replaceable heel strike pad.

Closure: Dual Side mounted Push/Pull BOA L5 lacing system with releasable lace guides.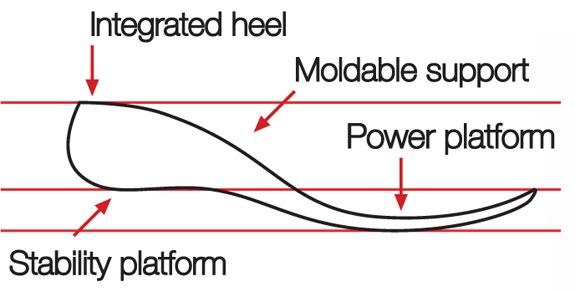 Please check the Lake Size Guide for the best performance fit.
EURO / UK : 38-5 / 39-6 / 40-6.5 / 41-7 / 42-8 / 43-9 / 44-9.5 / 45-10.5 / 46-11 / 47-12 / 49-13 / 50-14
Lake Carbon Shoe Heat Moulding Instructional Guide - We highly recommend using a separate oven thermometer as oven thermostats aren't always accurate.
If you have any questions about the Lake CX402 Road Cycling Shoes in. Give us a call on +44 (0)116 318 3511 or email info@saltdogcycling.com