Lake CX403 Wide Fit Road Shoes
Lake's Custom Fit Carbon platform provides heel lock and total foot stability like nothing else.
Upper: Klite Kangaroo leather and Carbitex CX6 Carbon Fiber Stabilizer Support panels help keep the foot stabilized, control stretch and allow for increased power transfer. Lined with Perforated Kangaroo leather for great fit and feel.
Outsole: Custom Fit Carbon Fiber sole. Replaceable heel strike pad.

Closure: Dual Side mounted Push/Pull BOA IP1-S lacing system with releasable lace guides.
Stiff carbon outsole without sacrificing riding comfort.
The Thermaform rear 1/4 alters the dynamics of pedaling creating one of the most stable platforms for high output cycling while also maintaining superior comfort. Lake's Custom Fit Carbon platform provides heel lock and total foot stability like nothing else. Supple and form fitting Kangaroo leather is naturally lightweight and breathable. This creates an upper that forms to your foot naturally, which in turn allows your foot to maintain comfort throughout the ride.
If you've not had a pair of Lake CX403 Wide Fit Road Shoes before please note: These won't fit properly until moulded (As per instruction video below) as the heel is pinned in when they come out of the factory pushing the foot forward which makes them feel very small. Everything in the wrong place once moulded your foot will move back around 5mm and will feel perfect like the best fitting shoes you've ever worn.
Custom Fit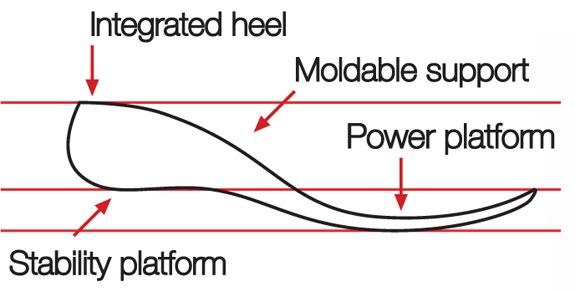 If you would like us to mould your shoes, it's no problem just let me know when you'd like to come over (Mickleover, Derby UK) richard@saltdogcycling.com or call on +44 (0)116 318 3511 FREE SERVICE

The technologies and materials use in Lake Cycling Shoes is what makes them unique. Working with some of the best known brands in the industry to augment there already elaborate Research and Design processes.
K-Lite kangaroo leather for Lake by Packer Leather, is the lightest, strongest & most durable natural leather. It utilizes multiple surface treatments to better protect & increase the comfort of your feet. Duratek treatment strengthens the leather & protects it from abrasion, & Microblok antimicrobial treatment renders the leather uninhabitable to microbes & germs.
BOA Closure System is a micro-cable closure system provides a fine-tunable, evenly-distributed closure that eliminates pressure points & hot spots. It is the first mechanical system to meet our exacting standards. Boa is a registered trademark of Boa Technology Inc.
Lake Carbon Shoe Heat Moulding Instructional Guide - We highly recommend using a separate oven thermometer for this as oven thermostats aren't always accurate.
View our Lake Shoe Sizing Tool and find your Best Performance Fit.
EURO / UK : 39-6 / 40-7 / 41-7.5 / 42-8 / 43-9 / 44-9.5 / 45-10.5 / 46-11 / 47-12 / 49-13 /
If you have any questions about the Lake CX403 Road Cycling Shoes, please don't hesitate to ask a question in the box below or give us a call on +44 (0)116 318 3511