Orro Terra C 1X Shimano GRX Adventure Bike
The ultimate do-it-all, go-anywhere bike - The Shimano GRX Adventure Bike, is designed to be Fast, Agile, Comfortable and Responsive on Road or Trail.
With its new colourway the Terra C now stands out from the crowd more than ever before. Designed as a lightweight carbon gravel bike the Terra C is fast on both road and gravel. Its lightweight frame has inbuilt impact protection which is provided by strategically located Innegra in the frame layup, as well as clearance for up to 42C tyres and the Terra C making the Terra C the ideal UK gravel bike. Step back onto the tarmac and it becomes immediately apparent that the Terra C is not just a one trick pony.
The excellent power transfer provided by the carbon layup equates to brilliant acceleration and it's brilliant handling gives the upmost confidence while cornering and descending. Now with the addition of Shimano's new GRX 1X groupset, the Terra C is more capable and dependable than ever before.
Wheelset: Fulcrum R700 DB
Seatpost: Orro Alloy Setback
Saddle: Prologo Kappa RS
Cassette: Shimano GRX600 11-42 (Not as picture, which looks 11-32)
Handlebar: FSA Adventure Compact
Shifters: Shimano GRX600
Stem: FSA Omega ST
Rear Derailleur: Shimano GRX600
Brake Calipers: Shimano RX400 Hydraulic
Tyres: Hutchinson Overide 38c
Frame: Orro Terra C
Fork: Orro Terra C
Chainset: Shimano GRX600 40T
British Engineered Carbon
One of the most important aspects in the designing of any bike is the materials used. We have used a bespoke carbon fibre layup which incorporates both high modulus and low modulus carbon into the weave, this has given us the perfect blend for our gravel bike. This is complimented by Innegra impact protection, which helps protect against catastrophic failure in the event of a rock strike.
Sigmatex
Sigmatex is one of the world's leading independent converters of carbon fibre. With the largest range of textile technologies and proprietary manufacturing equipment, Sigmatex supplies a wide spectrum of advanced composite materials to the automotive, aerospace, marine, wind energy, sports and leisure markets from its global locations. Sigmatex has a proven track record, converting large quantities of carbon fibre each year for major projects that require high levels of quality and reliability.
Innegra
Innegra is a high modulus polypropylene fibre that can be used independently or in conjunction with other fibres to provide weight reduction, excellent levels of impact resistance and damage tolerance. We have strategically layered Innegra into the Terra C frame to improve its impact resistance during off-road excursions.
Built for Britain
At ORRO we design a bike that we want to ride, that's why each one of our bikes is shaped by the countryside around us. The Terra C has been specifically designed to be able to handle the varied terrain that is prevalent in the UK. Rough roads, sandy trails, mud, grass and gravel tracks are where the Terra C comes into its own.
42mm Tyre Clearance
One of the most vital features of any good gravel bike is tyre clearance, so we have designed the Terra C to accommodate up to 42mm tyres. This increases comfort significantly and allows plenty of room for debris to pass through the fork and stays without damaging the frame of hindering the rider. The Orro Terra C has a rack limit of 5kg, when using racks and mudguards, please ensure that they are only mounted with the bolts provided.
Rack and Mudguard Mounts
The Terra C has been designed with versatility in mind. That's why we have added front and rear mudguard mounts, making it perfect for commuting all year round. Want to try your hand at bikepacking? The Terra C also has mounts for a rear pannier rack, letting you explore on your bike while being fully self-sufficient.
Terra C - Capable and Adventurous
Comfortable
Comfort on the bike is extremely important. It can be the difference between a brilliant ride and a terrible one. Thankfully with is adventure geometry and clearance for 42mm tyre the Terra C is a dream to ride.
Versatile
If you are looking for a 'do it all' bike the Terra C is the one for you. Fast both on and off road and with the ability to be set up as a bikepacker, commuter or even gravel racer, there is very little that the Terra C cannot do.
Orro Bike Sizing
| | | |
| --- | --- | --- |
| Orro Bikes Frame Size | Height (inches) | Height (cm) |
| X Small | 5'3" to 5'7" | 160cm to 170cm |
| Small | 5'7" to 5'9" | 170cm to 175cm |
| Medium | 5'9" to 6'0" | 175cm to 183cm |
| Large | 6'0" to 6'2" | 183cm to 188cm |
| X Large | 6'2" to 6'4" | 188cm to 193cm |
Orro Terra C 1X Shimano GRX Adventure Frame Sizing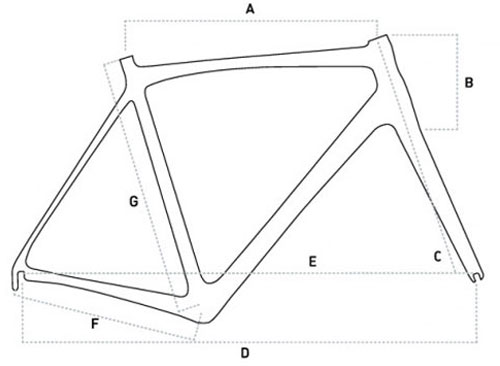 | | | | | | | | | | | |
| --- | --- | --- | --- | --- | --- | --- | --- | --- | --- | --- |
| | A | B | C | D | E | F | G | | | |
| | Top Tube Length (mm) | Head Tube (mm) | Head Tube Angle | Wheelbase (mm) | Seat Tube Angle | Chainstay (mm) | Seat tube (mm) | Stack | Reach | BB Drop (mm) |
| XS | 508 | 120 | 71 | 997 | 75.6 | 420 | 460 | 544 | 368 | 72 |
| S | 529 | 140 | 71 | 1013 | 74.9 | 420 | 480 | 563 | 377 | 72 |
| M | 553 | 165 | 71 | 1031 | 74.2 | 420 | 510 | 587 | 387 | 72 |
| L | 581 | 192 | 71 | 1052 | 73.3 | 422.5 | 545 | 612 | 397 | 72 |
| XL | 604 | 225 | 71 | 1076 | 72.6 | 425 | 580 | 644 | 407 | 72 |
If you have any questions about the Orro Terra C 1X Shimano GRX Adventure Bike, or need any help with sizing, please don't hesitate to ask a question in the box below or give us a call on +44 (0)116 318 3511