SureShift - Gear changing made easy for kids!
Really proud to be part of this idea and Cuda Bikes - Moore Large for developing it into a real product.
Our little boy @littlemanrides (Cuda Rider) after moving from a Cuda 16 to a 20 inch with gears (Age 5) was struggling with changing gear having little hands.
With all-new bikes, I always try to set them up as best as I can to make it easy for him to ride (adjusting the brake levers, the angle, reach, just making sure everything work best for him) So he gets best cycling experience possible it's a cycling Dad thing.
So after setting up the bike on the turbo trainer and seeing him struggle with getting the gears to 'Click'
His hands just weren't big enough to make the shift.
Changing gear is difficult for little hands as the shifters are designed for adult hands. To get him going, we came up with a little idea to shortens the lever arc and try and get that extra bit needed, enough to get his small hands to be able to 'Click' the gear. It wasn't ideal, but it did the job.
With the little man being part of the Cuda Crew, I spoke to Cuda Bikes about it, and they thought it was a great idea.
I am proud of Cuda Bikes - Moore Large for listening and going through with this as an idea and making it better!
Richard - Salt Dog Cycling Manager and @littlemanrides Dad
SureShift Product Description
Children are learning to ride at increasingly earlier ages and the technical progression of the bikes they ride, the transition from a single-speed bike to a geared bike is happening much sooner. (Age 5 to 7)
This progression is amazing and something to be celebrated, but this progression often comes with an unnecessary challenge for both rider and parents alike.
It's commonplace to find adult shifters fitted to children's bikes, a shifter never designed for smaller hands, with a shorter reach or even, for the rider who has no understanding of how to change gear at all. It is this difficulty that Sureshift aims to resolve.
Control
A Larger contact point and bright colour help to simplify gear-changing allowing the rider to focus on the trail ahead.
Comfort
Smaller hands often find it difficult to change gear. Sureshift reduces tension. increases the contact point and shortens the arc of the lever.
Confidence
With gear changing simplified more challenging terrain can be tackled, miles eaten and speed controlled.
SureShift Compatibility
SURESHIFT S3 - Microshift TS71-8R and the FrogFit Technology® youth-specific shifter. NEW
SURESHIFT S2 - Shimano M315

SURESHIFT S1 - Shimano M310

How to find out which Shimano Gear Shifter is on your child's bike?
Simply turn the bike over and at the bottom of the shifter is a model number, which will line up with the different versions.
Shimano M315 - Compatible with SURESHIFT S2

For Microshift TS71-8R and the FrogFitTechnology® youth-specific shifter - SURESHIFT S3

Further SureShift Compatibility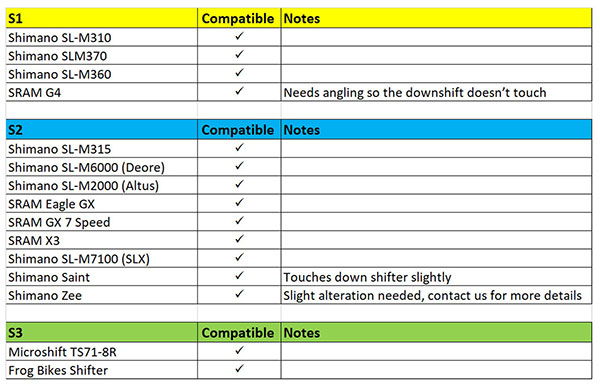 If you have any questions about the SureShift- Shifter Extender, please don't hesitate to ask a question in the box below or give us a call on +44 (0)116 318 3511